2012 Interview for SoundCheck Magazine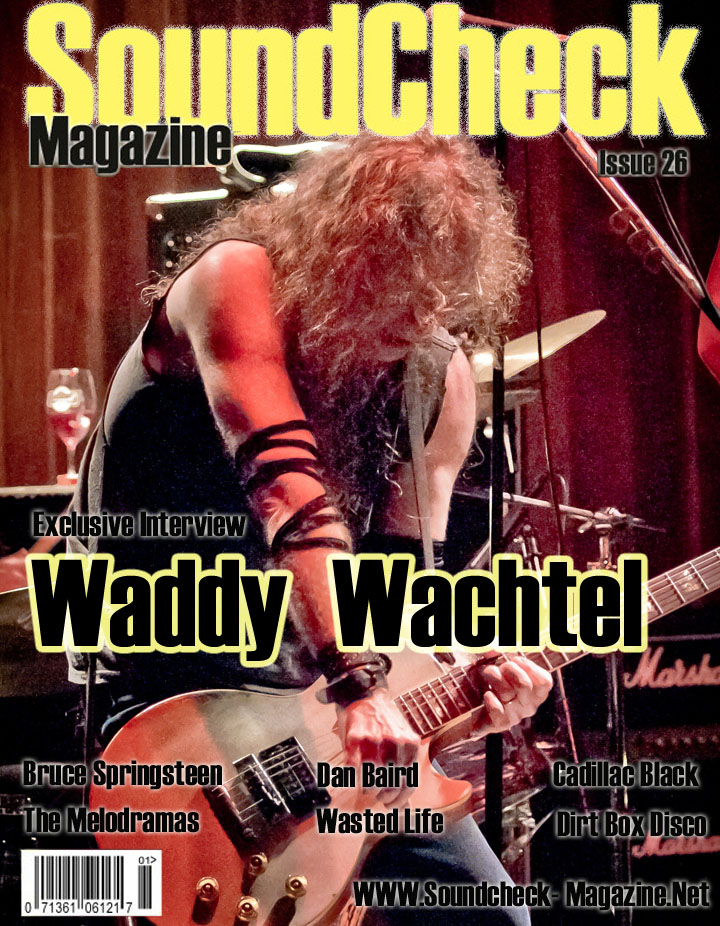 Publication: SoundCheck Magazine
Issue 26
March 1, 2012

Exclusive Interview with Waddy Wachtel
By Cyndi Ford


Listen to "High Maintenance Girlfriend" by Waddy Wachtel: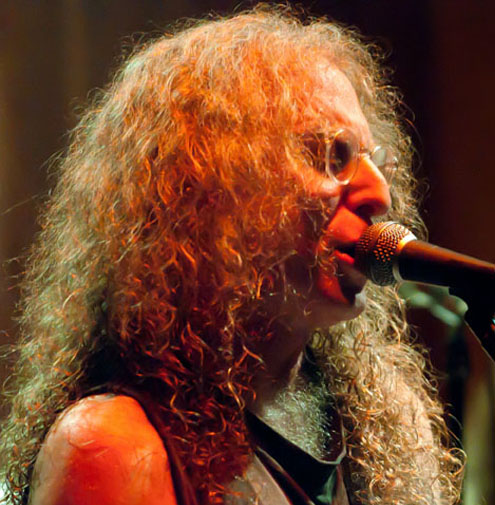 (Photo by Robert Bruns)


It is not only an honor, but a pleasure as well to interview one of the most sought after guitar players in rock n roll history; Waddy I thank you for the gift of your time.

You are one of the premier guitar players in the industry, how long have you been playing, and what was your first guitar and amp?

I've been playing since I was 9. I'm going to be 65 this year. My first guitar was a Kamico. It was like a little box. But for my next birthday, my father got me a Gibson L7 sunburst. My first amp was a Fender Vibrolux.

Who were you influences?

Its funny ... when I was 9 there weren't any guitar heroes yet; my influence was music and the guitar itself. My mom passed away when I was 6. About a year before that we saw a guy playing a big jazz guitar on television. I remember saying "What is that?" She told me "It's a guitar." I said "That's what I want." I told her "That's what I want to do, I want to play the guitar." After she left, the guitar never left my thoughts, and I badgered my father from the time I was 6 until age 9 when he finally gave in and bought me my first guitar. I was already playing when I first saw Elvis, and that did it! I knew that this was what I would be doing forever. Playing with The Everly Brothers was my first road gig. That's where Warren Zevon and I met. We became brothers. I moved to Los Angeles in 1968. I came out here with a band. After one year we broke up. That's when I began session work. I kept trying to get jobs... finally it happened. A friend mentioned that The Everly Brothers needed someone. I knew everything about every song of theirs, so I auditioned and got the job. I love them, I grew up hearing them. Duane Eddy was my first major influence; hearing "Tequila" by The Champs, and then the Ventures.

Everyone remembers their first band, what was the name of your band, and who was in it?

The Nocturnes, an odd line up, this was in 1961... I was 14. We had a trumpet, an accordion, drums and guitar. The trumpet player Alan Mendelson asked me to join the band. We grew up in New York... we played weddings and bar mitzvahs. Later we replaced the accordion with a friend Leon Salem who played vibraphone. The drummer's name was Nat Schneider, but i'm sorry to say i can't remember our accordionist's last name... Nicky. Sorry Nicky.

You were playing with Linda Ronstadt in the late 70's, how did you get this gig, and how long did you play with her?

Peter Asher, her manager and producer, saw me playing with Carole King at Royce Hall U.C.L.A. He came to the show and soon after approached me and asked if I wanted to play with Linda. I was starting to do a lot of session work at that time. Peter was producing J. D. Souther's Black Rose album, and J. D. and I were good friends. I sat in on a session for the song "Simple Man, Simple Dream." I played and Peter liked what he heard, asked me to play on Linda's record, then out on the road we went... in 1973. I was with her for 3 years. We did the albums Hasten Down the Wind, Simple Dreams, Back in the USA, and Mad Love. "Get Closer" was the single from Mad Love.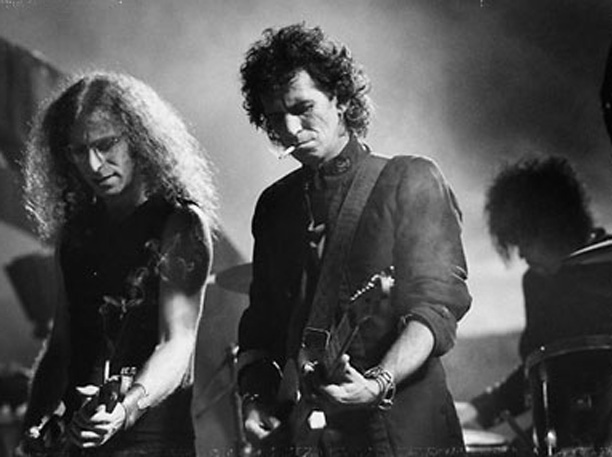 (Photo by Neal Preston)


Playing with the X-pensive Winos must have been a trip, what was it like touring and playing with Keith Richards?

It was as good as you could imagine; an amazing reality when Keith called. He said "I'm putting a band together and you are the other guitar player." The band was Bobby Keys, Ivan Neville, Charley Drayton and Steve Jordan. It was the best band that anyone could play in... fantastic. Every night was heaven, pure musicianship. We would blow our own minds. I don't like to hear too much in my monitor, basically just drums and bass and vocals. Keith and I didn't have each other in our monitors. At the end of the night when we were on the bus, we would listen to the show... and say how great each other did. We would say, " Damn did you hear what you did"?

You have been touring with Stevie Nicks for a few years now, she must be an angel to work with. What are the plans for this year working with her?

Nothing is carved in stone. We spent a lot of time on the road last year, promoting Stevie's new record In Your Dreams. We did a lot of shows with Stevie opening for Rod Stewart - all arenas, it was great. Then we toured the U.S. extensively and finished up with a month in Australia from November to December. Right now everything is in limbo... her mom Barbara just passed away. There's nothing booked at this point. And yes, Stevie is most certainly an angel!!!!

You have your own band, aptly named the Waddy Wachtel Band, is this just a fun side project, or do you plan on taking the band on a full blown tour?

If we were offered we would. It started when Jack Tempchin wanted to play in town, so I did it with Jack and Rick Rosas and Phil Jones. At first we played original songs and covered some great tunes, but then we just wanted to rock more, so we took it one more step towards rock n roll. It's basically the best cover band you've ever heard..... we do a lot of great titles, our set list is unbelievable. The singers - Bernard Fowler, Blondie Chaplin, and Jamie Savko - are incredible, Brett Tuggle plays guitar and keyboards, and lately Mindi Abair has been blasting saxophone with us... it's killer stuff. Also on hand is my dear friend Keith Allison who does some great tunes as well. It's a very strong rock n roll band. We do a couple of original songs, but not enough to really go and tour I think. I'm very proud of the noise we make and everyone on that stage.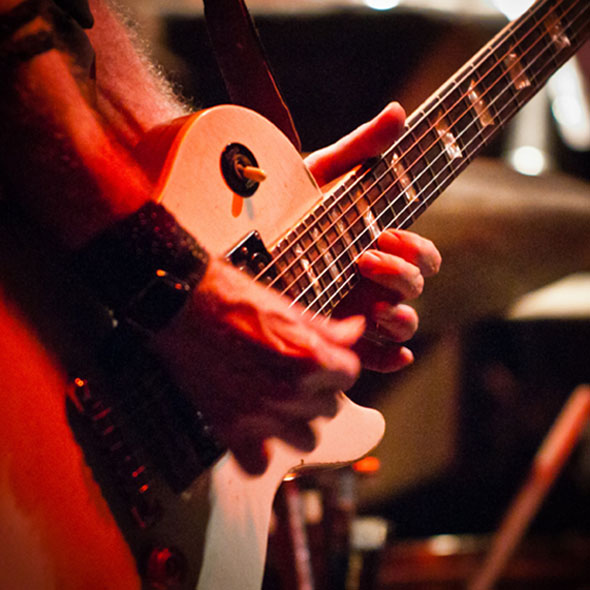 (Photo by Robert Bruns)


Speaking of gear, what is your favorite guitar for stage and studio, and what is your fave amp?

I usually use my Les Paul... I have several of them. One is retired, too old to go out anymore. I use a 1974 mostly - it's a gold top, but it's spray painted white... ugliest thing you've ever seen - along with a Fender Vibro King amp. I use two different rigs on stage. With Stevie I use my old 50 watt Marshall, but with the Waddy Wachtel Band I use two Fender Vibro Kings. Very loud they are!!! I will use a Tele every once in a while, but mostly use a Les Paul or a Strat. But basically whatever the song dictates determines which guitar gets used.

What are your favorite new pedals, and how have they changed from the days with Linda?

I don't use pedal, no effects. I would use them in the studio if they want me to. I have no pedal board... I feel as though they get in the way when you're on stage. It was suggested that I use one on the intro to "Edge of Seventeen", but I laughed and said, "No, that's ok. I can do that without one." And trust me - after a tour with Stevie playing that song, that sometimes can go from 14 to 17 minutes long, my right hand is strong enough to break open walnuts.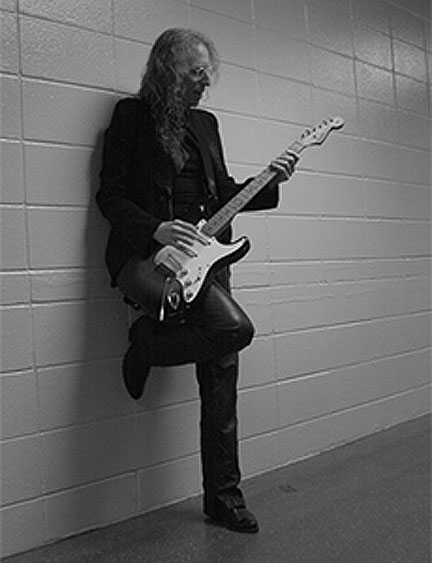 I have heard of you playing with just about everyone I know, either in the studio or on tour. Other than the ones mentioned, who have you had the pleasure of playing with, and can you tell us about some of your most memorable?

They're all special. Randy Newman, I played with him on Little Criminals; that was the album "Short People" was on. It was great to find someone that was actually more sarcastic than I am. Upon hearing that song for the first time in the studio, Lenny Waronker his producer said "The song is stupid." Randy said, "Don't take it personally." I played on a few of his other albums and on his song "I Love L. A." I've also played with Bob Seger, Bob Dylan, The Bee Gees, to name a few. But one of my absolute favorites was playing on the Rolling Stones album Bridges to Babylon. One night when BB King was there, they had made a deal - if BB would play on their album, they would play on his. Well I had this small amp, BB had a great big sound, Mick was singing, and it came time for BB's solo and I was really getting into it, and then he says "Take it Waddy." I froze for a moment and thought, "What the fuck?" Not one of my better solos... but a very memorable moment nonetheless!!!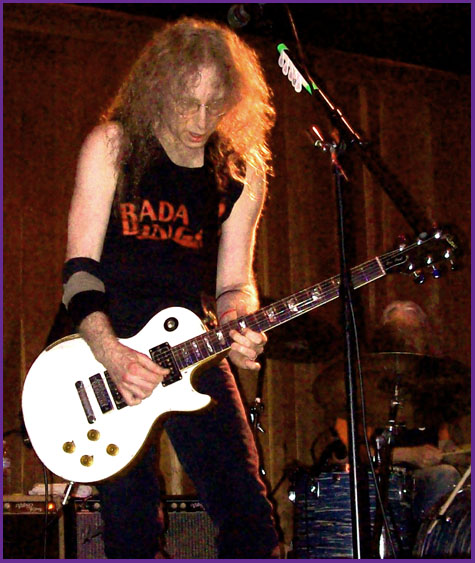 (Photo by Nina Correa)


I would like to add that this was a very special interview, because it was so enjoyable to talk to Waddy, and he made me feel so at ease. As luck would have it, my cell phone dropped the call not once, but yes, twice. Waddy graciously called me back both times, and we actually got a giggle out of it. I really enjoyed the spontaneous conversations we
had, that actually did not have anything to do with the questions. And for the record...if any one asks, where does Waddy like to eat when he is dining with friends when in Atlanta, Waddy says Sergeant Wyatt Country Bar Bq rocks. One of those spontaneous stories...

-Cyndi


Cover Photo by Robert Bruns Robert Bruns Photography Web Site






---
| Modern Recording and Music | Guitar World | Guitar Player | International Musician | Musician | Misc. Articles | Waddy Wachtel Interview Part 1 | Waddy Wachtel Interview Part 2 | Nina 1 | The Record | Bam Magazine | WW Book References | Keith Richards Life | L.A. Magazine | Soundcheck | Rolling Stone Magazine 4/11/13 | Burst Believers | WW Interview by Joe Bosso | WWGibsonInterview11/28/14 | WaddyWachtelInterview12/18/14 | WWGuitardotcominterview | WWMojoInterview2015 | WaddyLATimes2016 |
---
| Return Home | Discography / Credits / Gigs / Songs | Articles / Interviews | Photos / Videos | Contact | Waddy Wachtel Band | Search | Mailing List |